You need to create the website in Quentn if you wish to track your restricted pages.
To do this, go to Web Analytics (from Basic Account) and click on "+ "Add domain".

Enter the URL of your WordPress page here and

activate tracking. Ensure that you check the box "Consent required" if you want to use the

consent form

function.

Type of consent form
The declaration of consent always refers to already identified users (e.g. they have clicked a link in an email, etc. You can get more information here).
To use this function, the "Consent required" option must be activated when creating the domain in Quentn.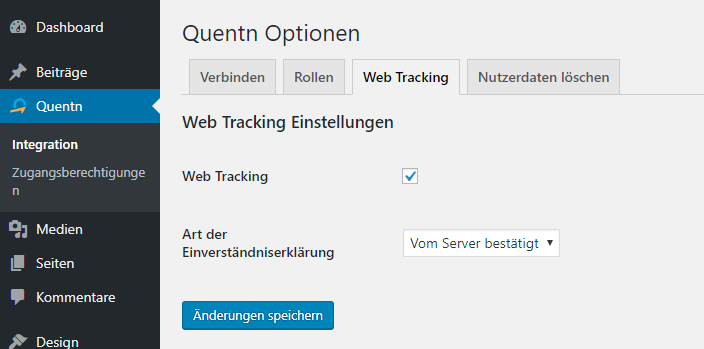 There are 3 options to choose from for the type of consent form:
Confirmed by the server:

Only users who have already given their consent, which is also stored on the Quentn server, are tracked.
Cookie notice:

For this you need the free plugin

Cookie Notice. If you activate this option, a cookie notice will appear on the website, which users must agree to - only then will they be tracked.
Quentn overlay:

Similar to the cookie notice, a notice opens with Quentn's customisable text (agreement of the privacy policy etc.). You can set this up under Web Analytics.