This article contains the following topics (click on them to jump to the corresponding place):
Introduction to the landing page builder
The new landing page builder makes things much easier for you! Simply create your landing pages via drag & drop - just as you already know how to from the drag & drop email editor.
The great thing is: if you use the landing page builder, you no longer need a Quentn form! You can deal with all the settings here - and better than ever before.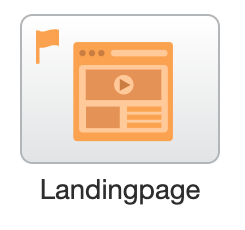 There are some general tips that will simplify your work with the landing page builder.
The best workflow is in full screen
The best way to work is to activate the full screen mode. This way, everything is displayed and you have the best overview. To activate the full screen mode, click on the blue button (for a template) or green button (in the landing page element), on the left-hand side above the template, "Full screen".

The footer
The footer cannot be deleted or edited. It contains a link to the legal notice and, if available, a link to the privacy policy. You can create both yourself (see "Create privacy policy" or "Create legal notice").
If you don't create your own legal notice, one will be created automatically from the information you have stored in the system.
According to Section 5 of the German Telemedia Act (TMG), the legal notice is obligatory for commercial internet pages and commercial emails.

Change of design
If you don't like the design of this block because it doesn't fit (anymore) with the rest of your landing page, please contact us (support@quentn.com) and we will adapt the area for you.
Activate landing page / Publish changes
Your landing page will be activated as soon as you publish the campaign in which you created the page.
Changes to your landing page are only applied after the campaign has been (re)published. It can take up to 5 minutes until they are visible.
Cookie banner
Quentn does not offer its own cookie banners, as no cookies are set. Of course, you can use third-party providers and insert the scripts in the page settings.
Auto-Save
If you accidentally exit the landing page editor without saving first, luckily your work is not lost, as your changes are saved every 30 seconds.
Open your landing page again.
Click on "Load template" and on the "Drafts" tab.
Here you will find the drafts of your landing page. Click on "Load" to load the draft into the editor and all changes are there again.
The following should be noted here:
The drafts are deleted after 30 days.
As soon as you save, the drafts are also deleted.
Only the drafts of this landing page element are displayed.