This article contains the following topics (click on them to jump to the corresponding place):
Condition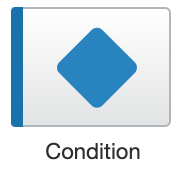 Conditions allow you to react to different outcomes of an event. Simply put: "If this is true, then the contact should get this".
Most event elements make conditions unnecessary - you don't need them to react to link clicks, mail opens, form submissions, etc.
We have described some examples and use cases in a separate article.
Notify user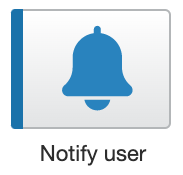 This item informs you about various events via email or browser notifications. It tells you who has completed a form, who has clicked a certain link etc....
Click here to find out more.
Email confirmation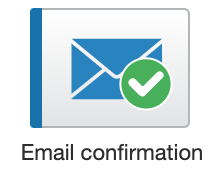 This action item completes the double-opt-in process (DOI). After the user has registered in your form, they will now receive an email with a confirmation link to verify their email address. As soon as they have clicked on the link, they will receive another email (thank you for your registration, etc...).
Click here to read about how to configure the element and what you should consider.
Start campaign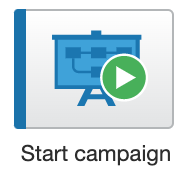 You can use this item (from a Basic-Account) to trigger another campaign in a campaign for already verified contacts.
The requirement is that:
There is another campaign (the one to be started).

This campaign starts with the event element "Start".
Stop campaign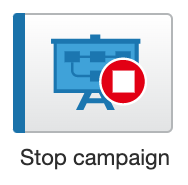 In some cases, it may be necessary to remove contacts from a campaign, e.g. if a certain product is no longer available.
You can stop the current campaign (from a Quentn Pro-Account), as well as other campaigns in which the contact is also located. Double-click on the element to open it, then select the campaign you wish to stop. By clicking on "Reset contacts", you can reset all contacts (and statistics if necessary) so that these contacts can go through the campaign again. This is useful, for example, in a campaign test or when re-registering for a webinar.
Reset campaign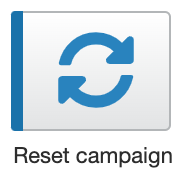 The "Reset campaign" action element is available to you starting from the Basic Account. The function is self-explanatory: you reset contacts within a campaign so that they can go through it again.
Please note: We recommend that you connect the element to an event element.
Use case: Repeat automated appointment scheduling
Let's assume you've set up automated appointment scheduling. However, the contact missed the appointment and is supposed to make another one. In order for them to go through the campaign again, they need to be reset for the campaign.
Implementation is as follows:
First of all, you create a new contact field for the type "Date with time". You can read how to do that here.
This is where the interface to Zapier or even Integromat comes into play. You now need to create a Zap or a scenario to connect, e.g.

Calendly and Quentn. In the Zap or scenario, you define the fields that should be transferred. Important ones include the name, the email address, the date with time AND, don't forget, a tag, e.g. "Appointment made".

So now when someone signs up with Calendy, the contact is automatically sent to Quentn and gets the tag "Appointment made".
At the same time, you ask in several emails that the appointment be made. The sequence ends as soon as the goal is reached and the tag "Appointment made" is assigned (see image 2, no. 1+2)
Connect the event element with another sequence for confirmation of the appointment (see image 2, no. 3)

In the email you can then use the placeholder for the date and time of the appointment.
Then you can use the "Date timer" element in the sequence and set it so that shortly before the appointment (e.g. 1 hour before), another email is sent to remind the contact of their upcoming appointment (see image 3)

But what if you can't reach the contact?
You start with the event element "Tag(s) changed" and react to the assignment of the tag "Not reached" (see image 2, no. 4)
To allow the contact to go through the previous sequence again, the "Reset campaign" element is now used (see image 2, no. 5)
At the same time, you should withdraw the "Appointment made" tag from it using the action element you are connecting (see image 2, no. 6)
Start a new sequence in which you send an email indicating that unfortunately you couldn't reach them and that they're welcome to make a new appointment with you. Then the link to the appointment tool will be used again (see image 2, no. 7)
As soon as the contact makes a new appointment, they enter the confirmation reminder loop.
After you publish the campaign, you need to manually assign the "Not reached" tag to the contact who missed the appointment.
Make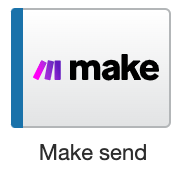 Make is an "interface provider" - similar to Zapier. With Make´s help you can connect Quentn to over 500 other softwares (as of October 2020), without having to program an interface yourself.
You can find a guide here.
Sequence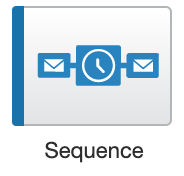 Sequences are action elements which allow for the time-controlled sending of emails - the autoresponder, the heart of every campaign.
Click here to read in detail about which item are available to you within a sequence, how to set up a sequence and what you need to bear in mind.
Sequence: Send letter

Sequence: Date timer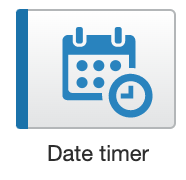 With the date timer you can determine on which date, and at what time, your emails should be sent. You can choose whether you want to react to a fixed date, a date transferred from a contact field or a birthday.
Fixed date
Would you like to send an email on a certain day (e.g. a certain celebration, an anniversary, Christmas...), and at a certain time? If so, choose the fixed date.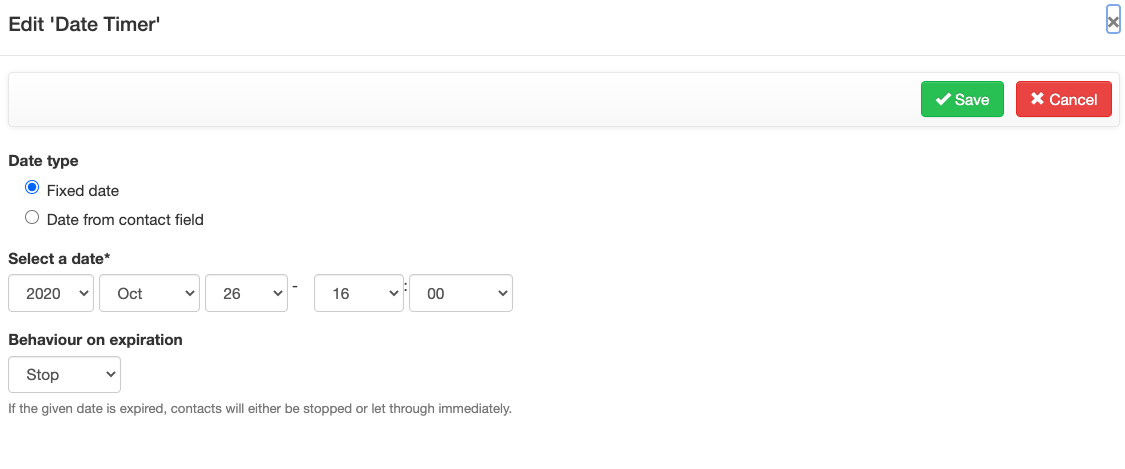 For example:
In a Christmas campaign, all contacts that come into the sequence during the year wait for the timer set for 24.12/12pm. The email will be sent exactly at this time to all contacts who are on the element up till then.
Behaviour when the date has expired
Of course, you can also specify what to do with the contacts once the date has expired:
If you select "Stop", no more emails will be sent to new contacts after the limit has been exceeded. This makes sense if you are sending event-related emails, as you wish to prevent people ending up in the campaign even though the event is over.
If you select "Next", new contacts will also move to the next element after the date expires.
Date from contact field
You can also respond to data from contact fields. Perhaps the contact has registered for a webinar - in the contact field, the date and time are transferred to Quentn. You can now set an email reminder, for example, to be sent to the contact one hour before the webinar starts.
If you have only a specific date but no time in the contact field, Quentn will assume 0:00.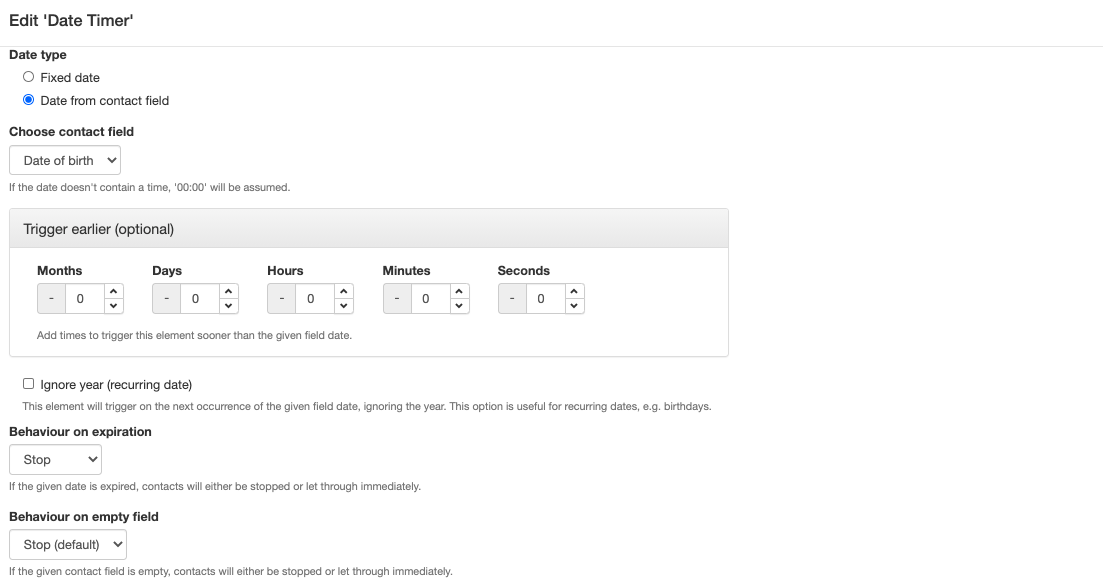 Date of birth
You can now also react to birthdays, as long as the date is stored. The contact has indicated their birthday and you may wish to congratulate them. Please check the box "Ignore year" (the contact's year of birth is in the past, but you might want to congratulate them this year).
Behaviour when the date has expired
If the specified date has already passed, contacts are either stopped or forwarded directly.
Behaviour with an empty field
If the contact field is empty, contacts are either stopped or forwarded directly.
Attention: Timer settings
Please note that the timers always use the target date/time that was set for the element when the contact was made. If you make changes, e.g. shorten the waiting time, this change only applies to contacts who enter the element afterwards. The other contacts already waiting will receive the next email at the time originally set.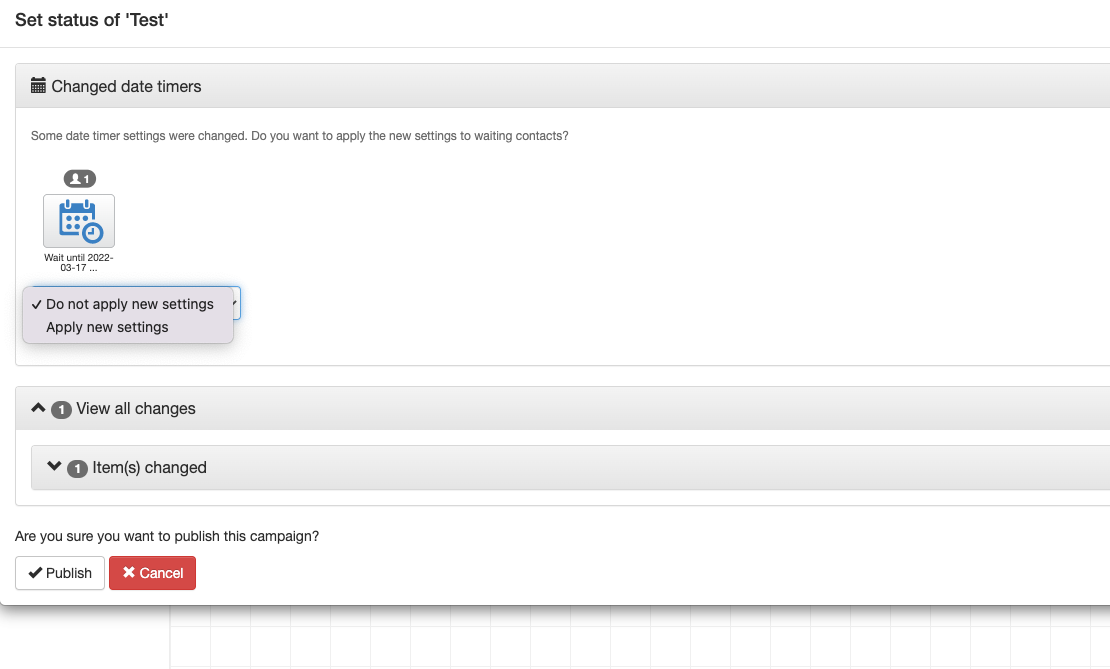 Sequence: Send email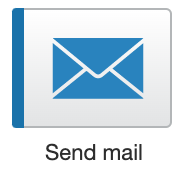 Use this element to compose your campaign emails.
Sequence: Timer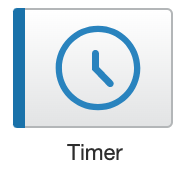 With this element you can determine within a sequence how long to wait until the next email is sent. You can adjust the settings here in great detail: no matter how many seconds, minutes, hour, days or months, or on which specific day or at which time. For example, a certain email can always be sent on the 2nd Monday in December at 12pm. You can find more information here.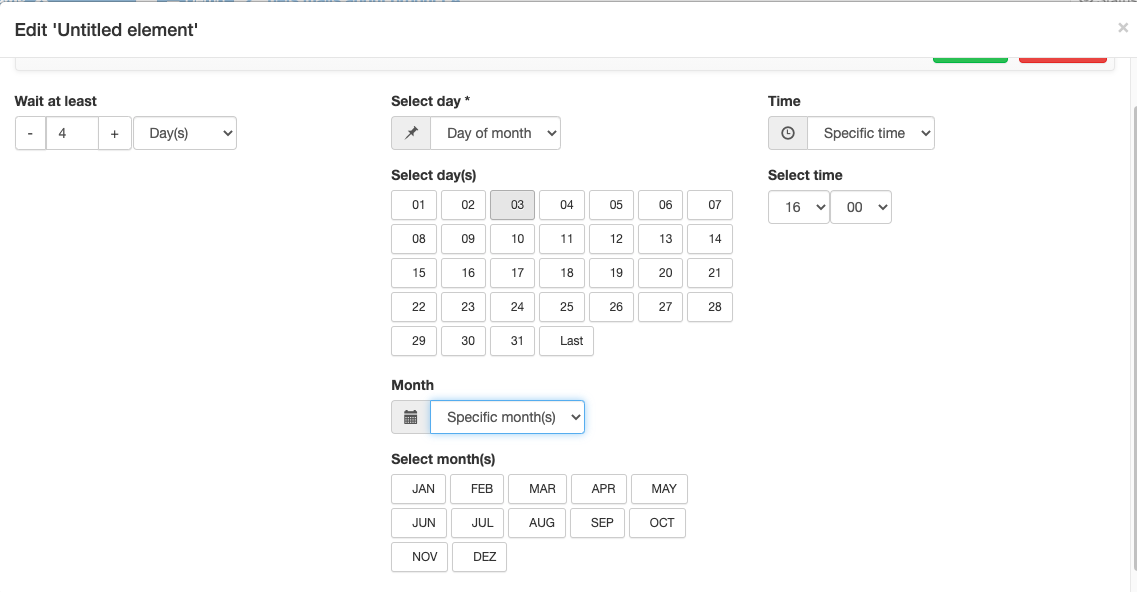 Switch Stage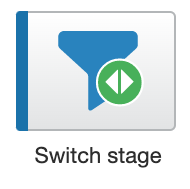 Starting with a Basic account, the sales pipelines are available to you, which is of course also coupled with email automation.
You use this element to send contacts to a specific stage in a specific sales pipeline. You can also assign owners to the contacts (provided you have created multiple users).
Read more about Sales CRM here.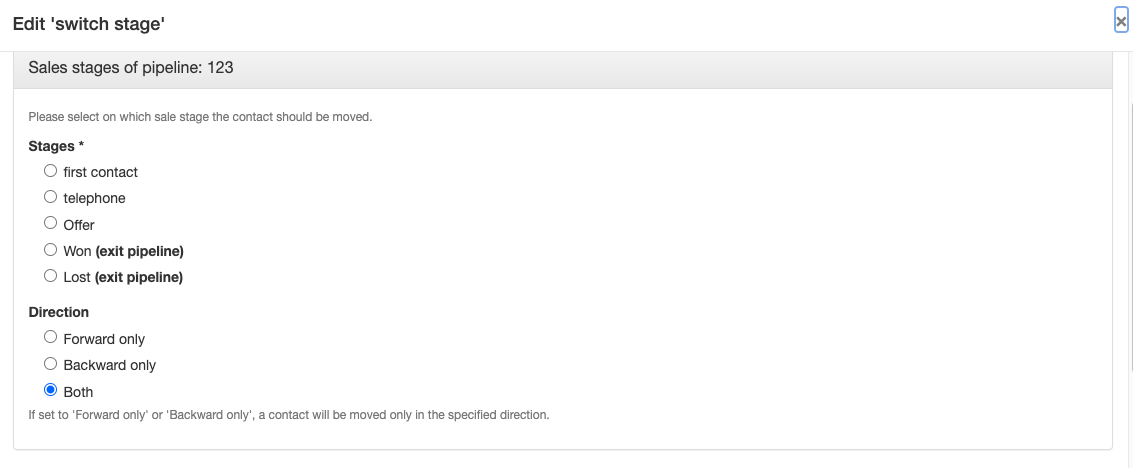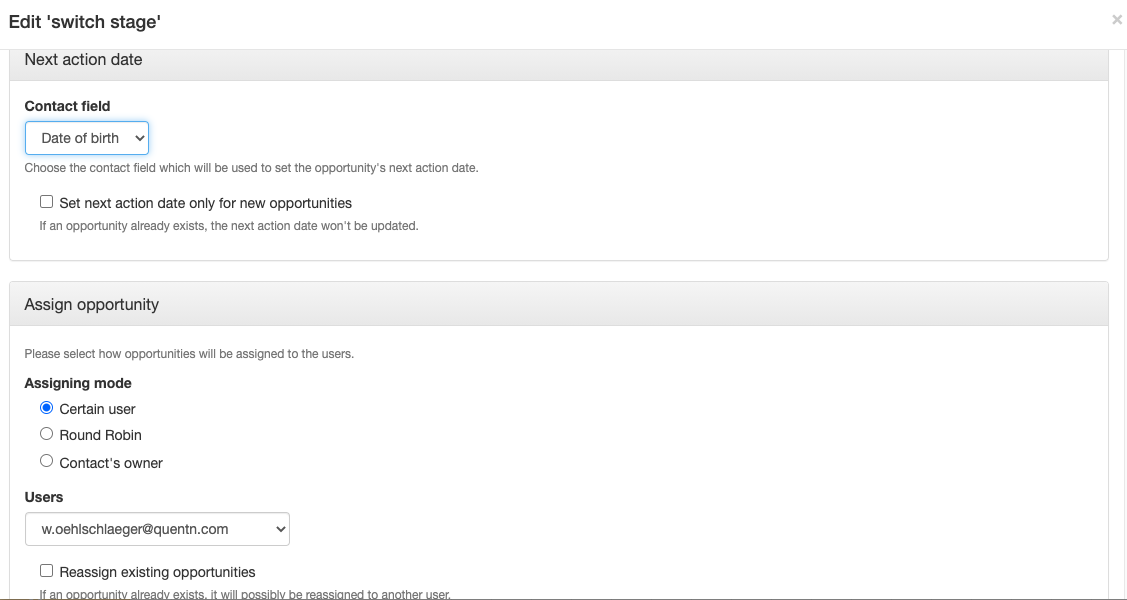 SMSApi
With the "Send SMSAPI" item, you can send SMS to your contacts after you have integrated the two applications.
The prerequisite is a Basic account.
You can find integration instructions here.
Change Tag(s)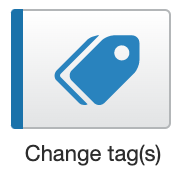 A tag is a virtual notepad. Tags allow you to assign your customers keywords and/or key points in order to better select them. Where did they come from and what were they interested in? You can answer these and many more questions automatically with the help of tags.
To assign a new tag, double-click on the element to open it and enter the name of the tag. If the tag already exists, a dropdown list will appear listing it. If the tag is new, click on "Create new tag".
Webhook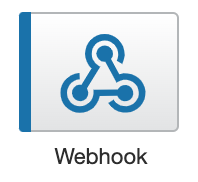 This element is available from a Pro account. For more information, see the Webhook article.
WordPress Access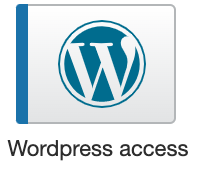 This element allows or denies contacts access to a specific website or, if necessary, creates new users or updates existing ones.
Read more about using the Quentn WordPress plugin here.
Wowing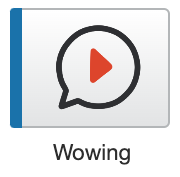 With Wowing you can immediately answer all kinds of customer inquiries with a personal video.
First of all, connect Quentn and Wowing. Then you can specify in the element to which Wowing automation the contacts should be sent. You can also leave yourself a note that will be displayed when you record your message.
Send to Zapier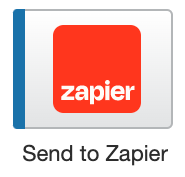 Zapier is a third-party provider. Zapier allows you to connect Quentn to almost any other software without having to program an interface yourself.
Detailed documentation regarding Zapier can be found here.