When you log into Quentn, you will land on the homepage my.quentn.com. This is where your hosts (i.e. your systems) are displayed. You can adjust your account settings under My Account in the top right-hand corner.

In the View tab, you will see an overview of your data, e.g. name, company and the duration of your previous membership.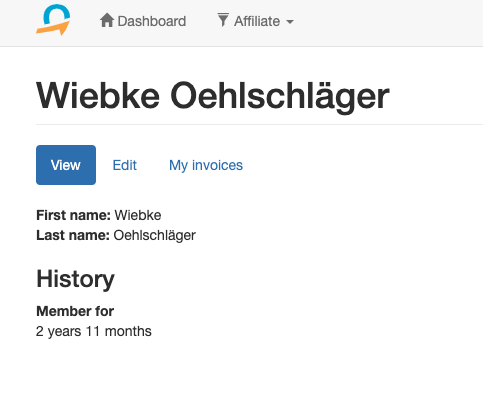 In the Edit tab, you can edit the information you have entered, e.g. change your password or update your address details. Invoices are created using this data.
You can also set the language and regional settings. As an affiliate, you can choose your payout method and enter your bank details.
In the language settings, you can choose between German and English as your preferred language for the website.
If you do not live in a German-speaking country, you can set your local time in the regional settings.
ATTENTION: Always use a secure password to protect your data from unauthorised access.
Tip: Create secure password
A secure password should be at least eight characters long and consist of upper and lower case letters, numbers and special characters. Simply attaching numbers to a word is not recommended. For example, instead of Summer18, use 1s*m8mEr! There are no limits to your creativity.
You will find your invoice(s) clearly listed in the tab My Invoices.