Digimember is a feature-rich WordPress plugin that allows you to create an easy-to-use membership area in just a few clicks. Once you have integrated a payment provider, it is also possible to sell memberships in a fully automated way.
To connect Quentn with Digimember, a Quentn Basic account is required to enable the API.
Connect Digimember with Quentn
Step 1: Set up welcome page for new members in WordPress
When the new user has registered for the members' area, he should be directed to a welcome page. This can, for example, contain a friendly welcome, provide initial information or refer directly to the product.
Create a new page in WordPress according to your wishes.
Step 2: Create product
Create a new product in Digimember under the menu item "Products".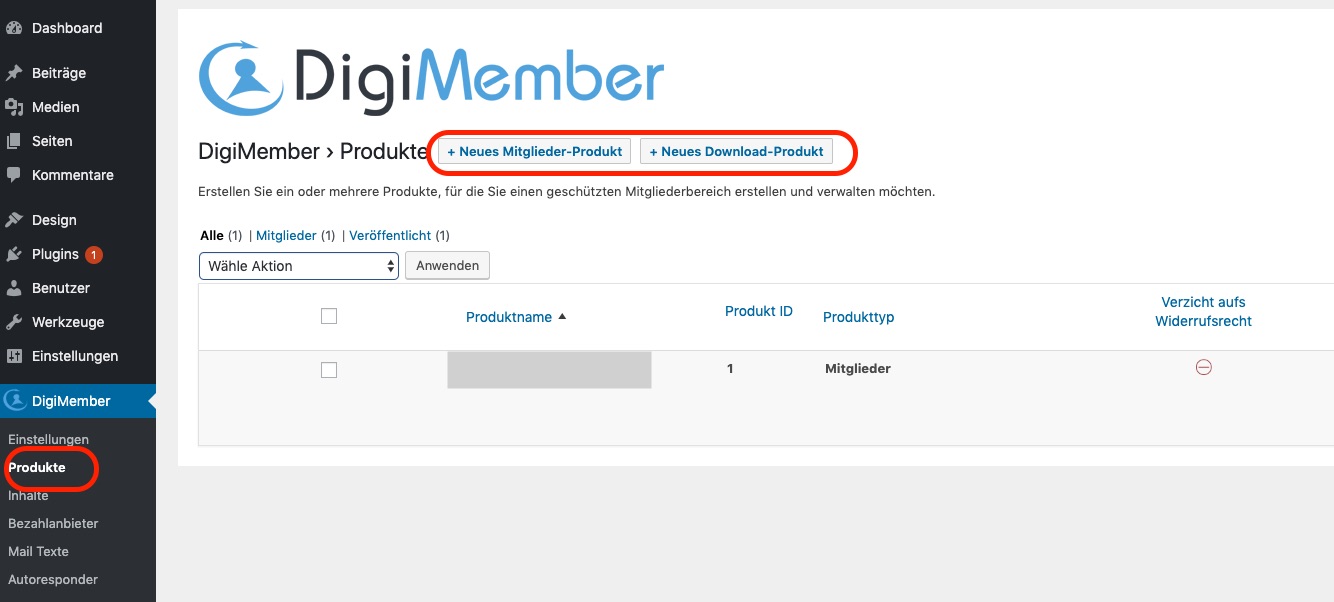 Enter the name for the product.
Then determine the redirects.


Page after the first login: Here you select the page from your WordPress pages to which a new user should be directed after logging into your member area for the first time (e.g. the welcome page you have just created).
Page for all further logins: Here you select the page from your WordPress pages to which a user should be directed after each further login.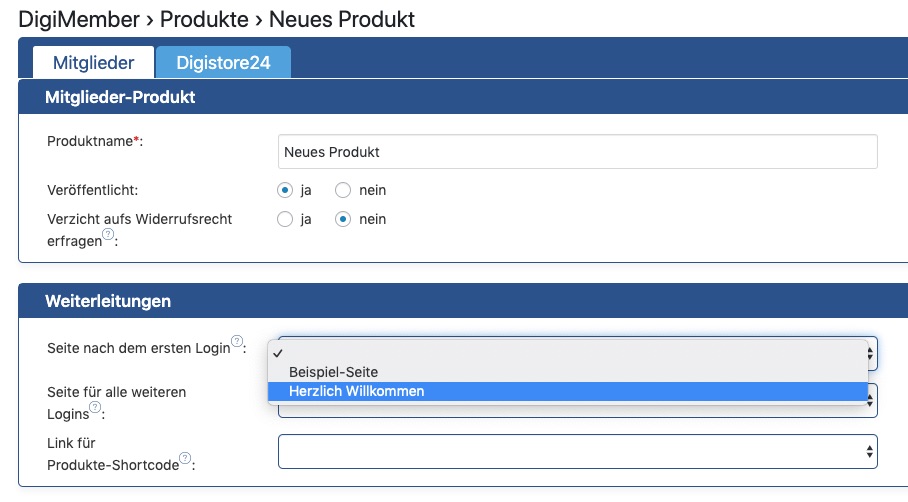 Step 3: Create autoresponder
Click on "Digimember" in your Wordpress.
Under "Autoresponder" please click on the button "+ Add".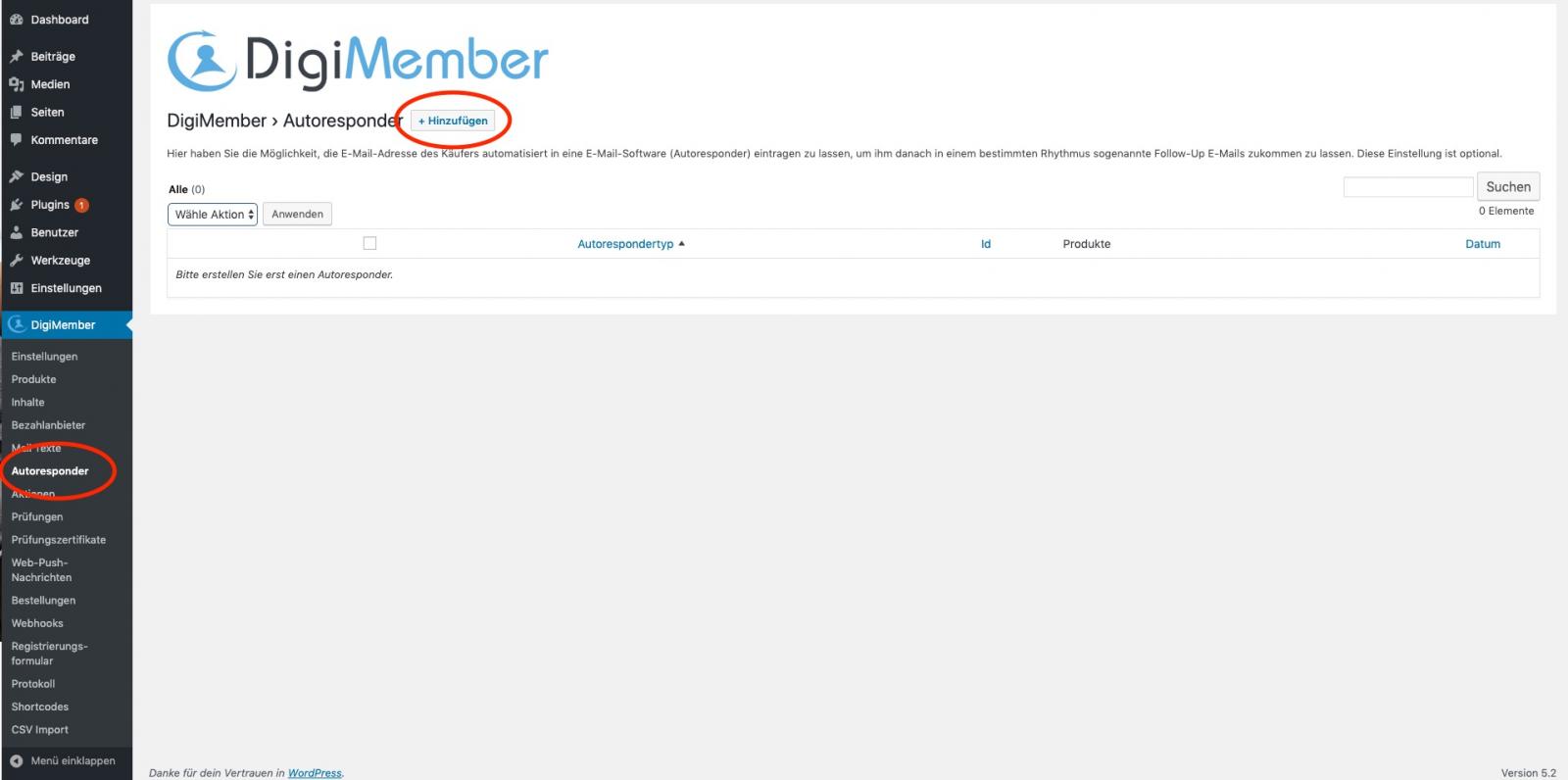 Select Quentn as your autoresponder.

Enter the Quentn API key and the API URL. You can find this in your Quentn account under "Settings" -> "API Info" (from Quentn Basic account). Create an API Key for Digimember, copy the required information and paste it into Digimember.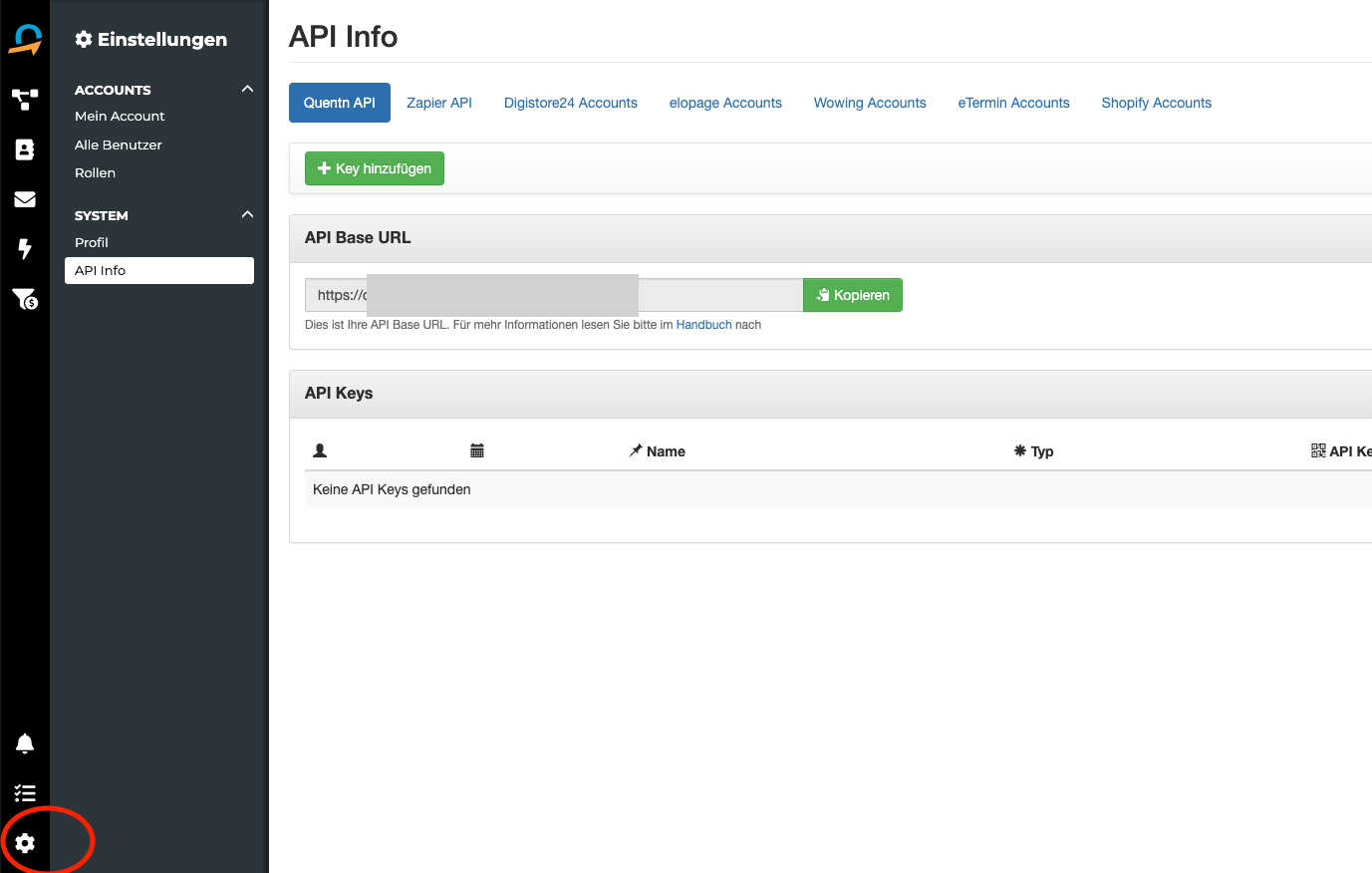 Click on "Apply changes".
Step 4: Create tags for new members
In the "Autoresponder" area you will now see your tags from Quentn listed. Determine which tag(s) new members should receive.
You can also create new tags here.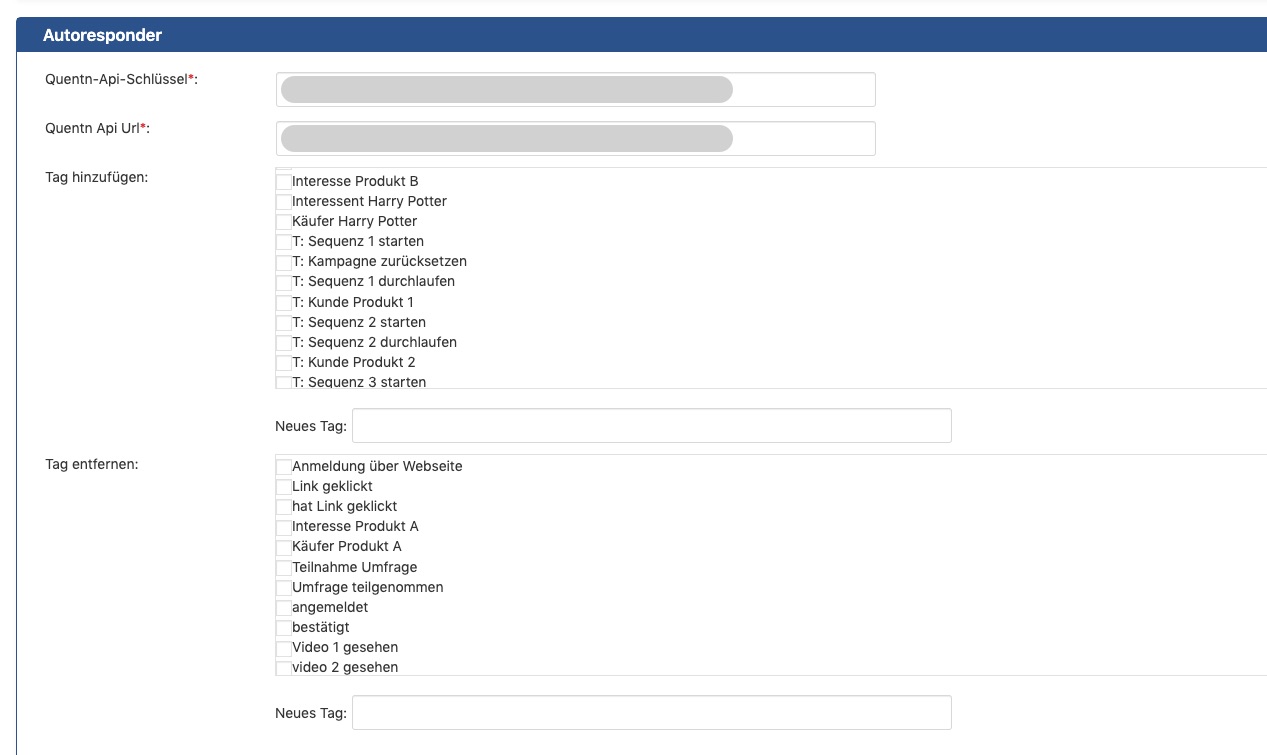 Step 5: Create contact fields for personalised fields

Now go back to your Quentn account and create contact fields for order date, order ID, login name, password, login URL and login key.
To do this, go to Contacts -> Contact Fields and click the green button "Add new field".
Enter the title and create text fields.
Now go back to Digimember and click on "Apply changes".
Now you can determine the personalised fields by selecting them from the dropdown.

Step 6: Set up actions (e.g. assign more tags)
When your customers perform an action (e.g. visit a page), you can add or remove autoresponder tags, i.e. tags from Quentn.
To add an action, click on "Actions" in the DigiMember menu. Then click on "Add" at the top.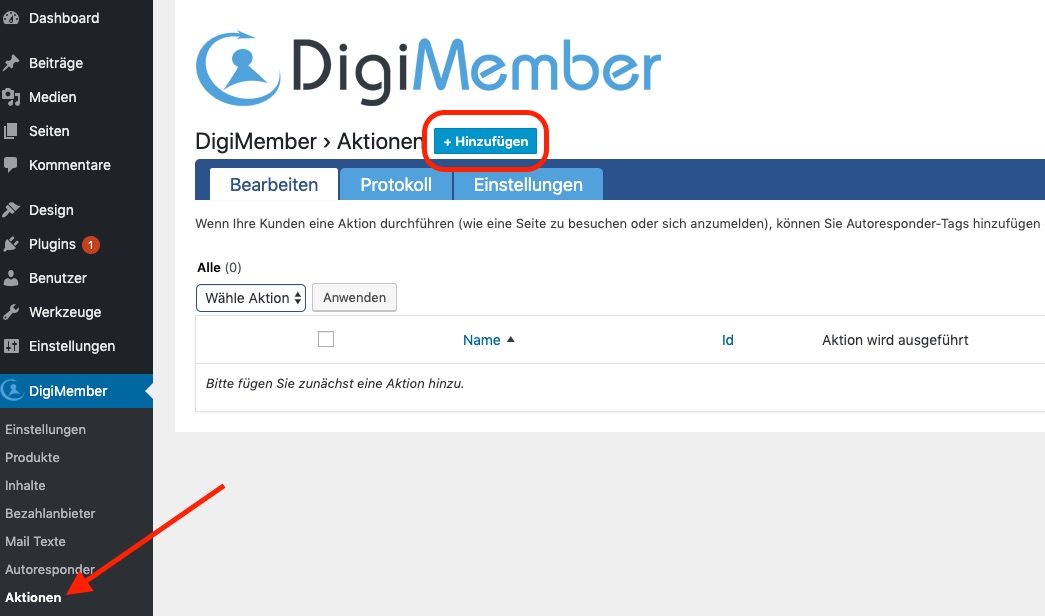 Name your action.
Determine when the action should take effect: When visiting a page, when logging in, if the user is offline for a certain time, if they have never logged in before or when the product access expires.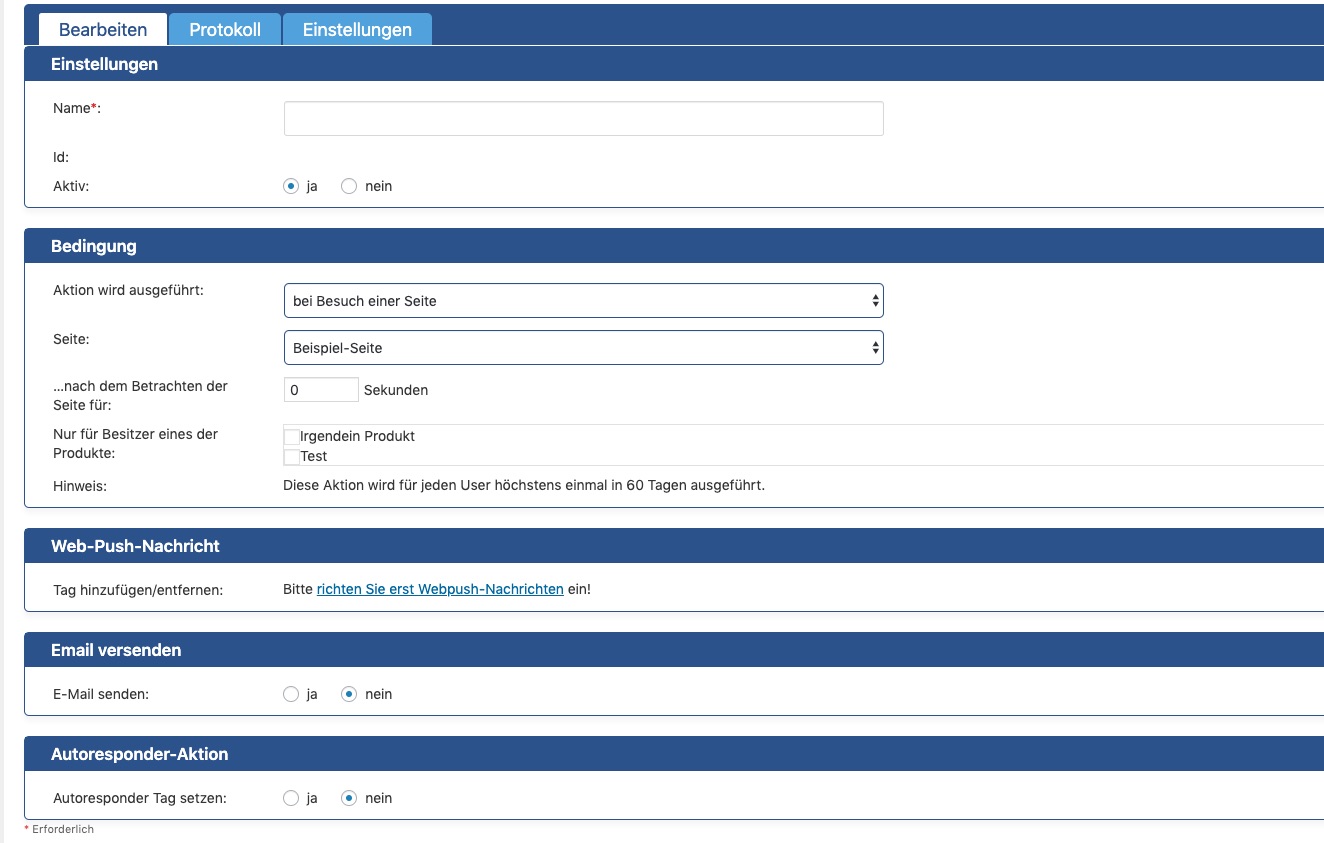 Set the check mark to "yes" for the autoresponder actions.
From the tag list, select the tags that are to be assigned or removed. You can also create new tags here again.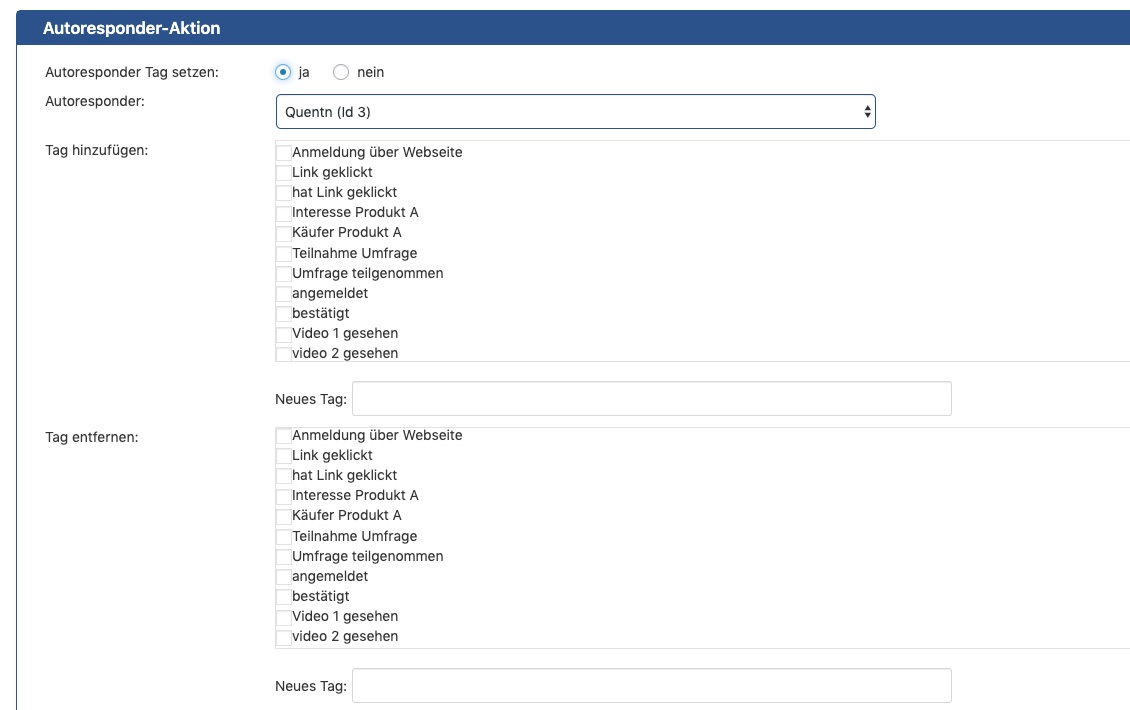 Registration of a new user
Option 1 (recommended): Registration via a Quentn form
If you want to use a Quentn form for registering new members, we recommend using the autojoin function: this not only creates a new member of your members' area, but the contact is also created in Quentn. Once he has completed the double opt-in, you can immediately start an e-mail campaign. Other advantages of using the Quentn form: You can request much more information (e.g. complete address data etc).
Step 1: Integrate shortcode Autojoin into welcome page
Add a new block to your welcome page in Wordpress (click on the +).
Select "Digimember Shortcode".
In the dropdown, now select the shortcode [ds_autojoin].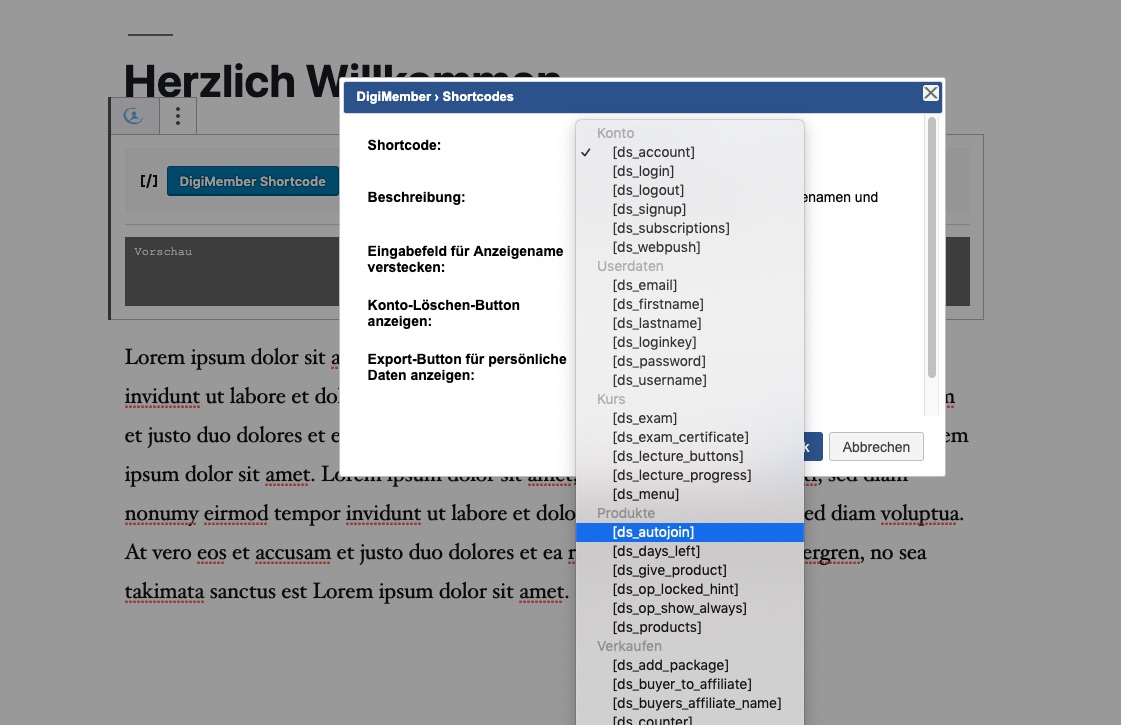 Check the box for the corresponding product and for "log in automatically" and then click ok.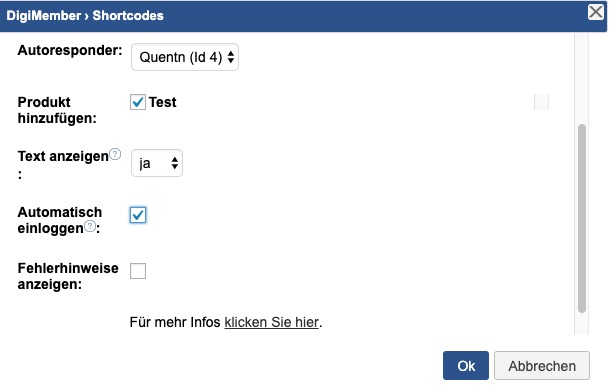 Once the shortcode is inserted, it looks something like this: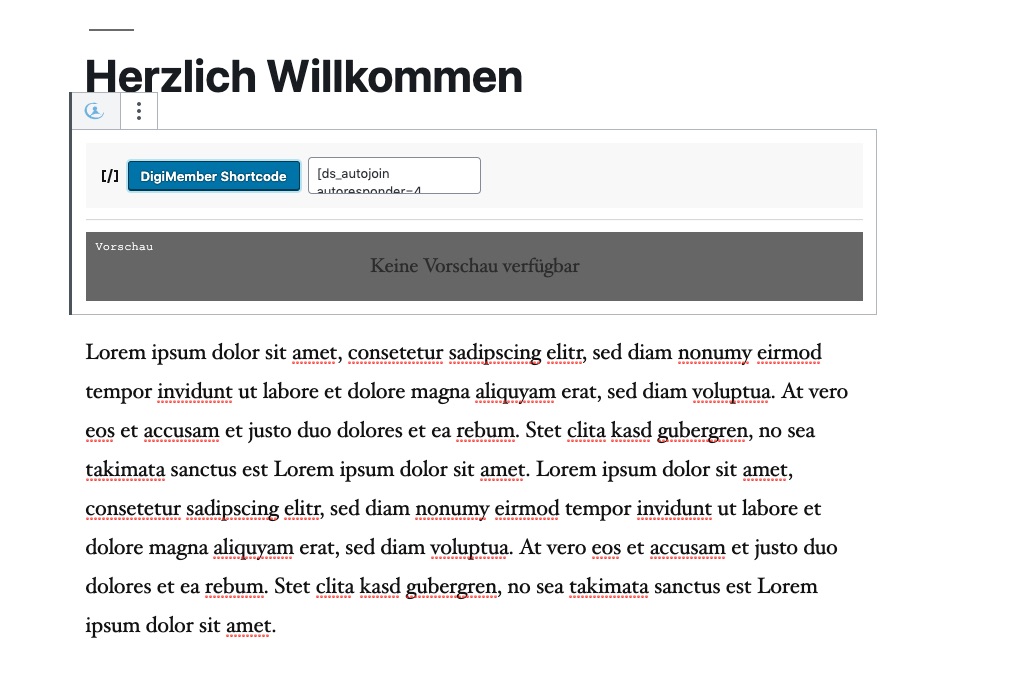 Step 2: Create & configure form in Quentn
The user should sign in to this form to gain access to the members' area.
Create a new campaign (or open an existing one that you now want to use) and drag the event element "Form sent" onto the whiteboard.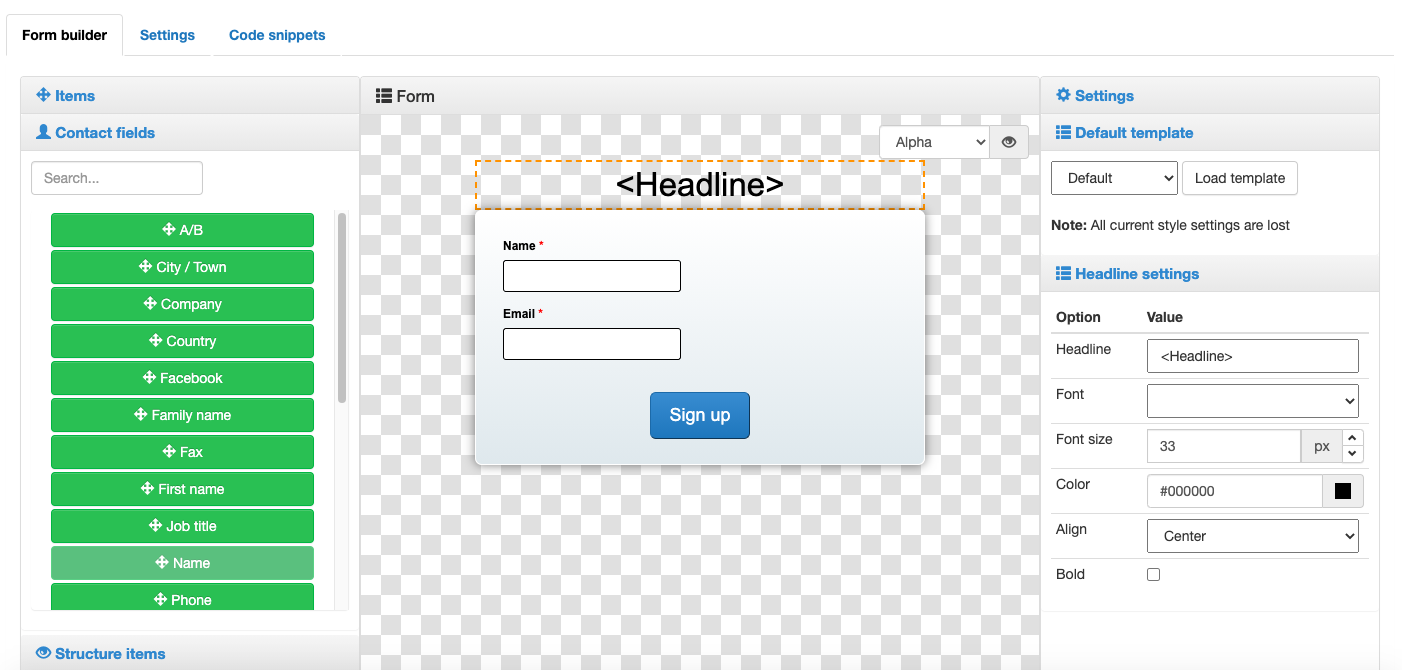 Click on "Settings" in the form and select forwarding to a web address.

Enter the URL of the welcome page you have just created.


Check the box "Append contact information to URL". If a new member now registers, Digimember will create the account. The personalised fields are automatically created and sent to Quentn..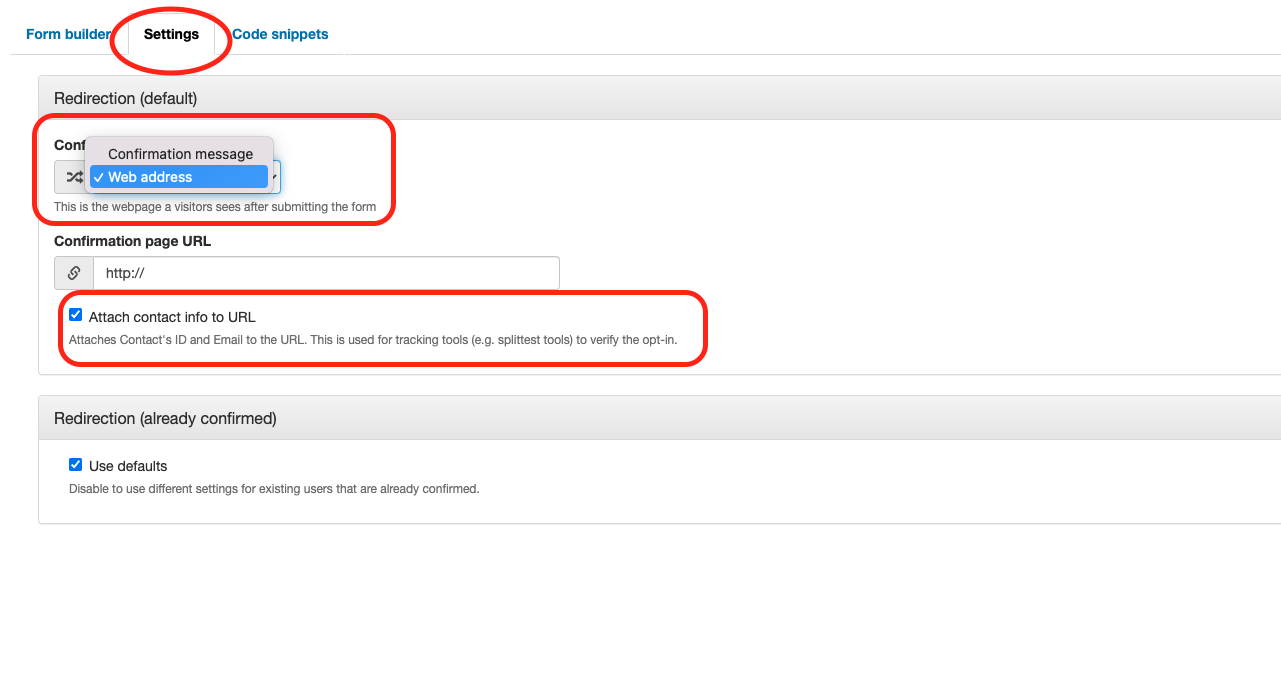 Copy the code snippet of the form and enter it on your website.
Example campaign for sending the login data
Assign a tag in Digimember when creating a new member, e.g. "new member".
Start your campaign with the event element Tag(s) changed and define the tag "new member".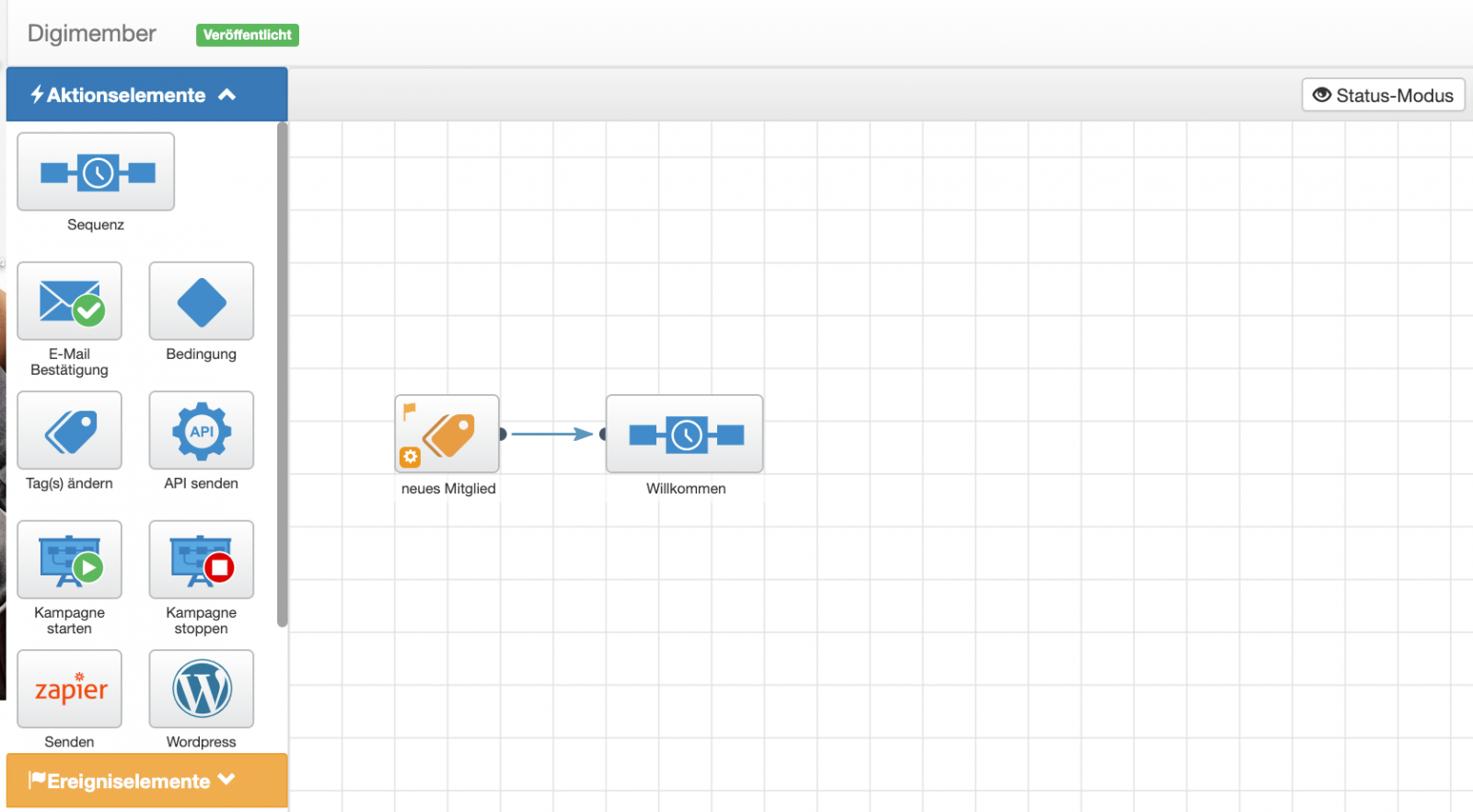 Connect the element with a sequence.
In the sequence, you can welcome the new user in the first mail.

Best of all, you can send the contact all his or her login data again.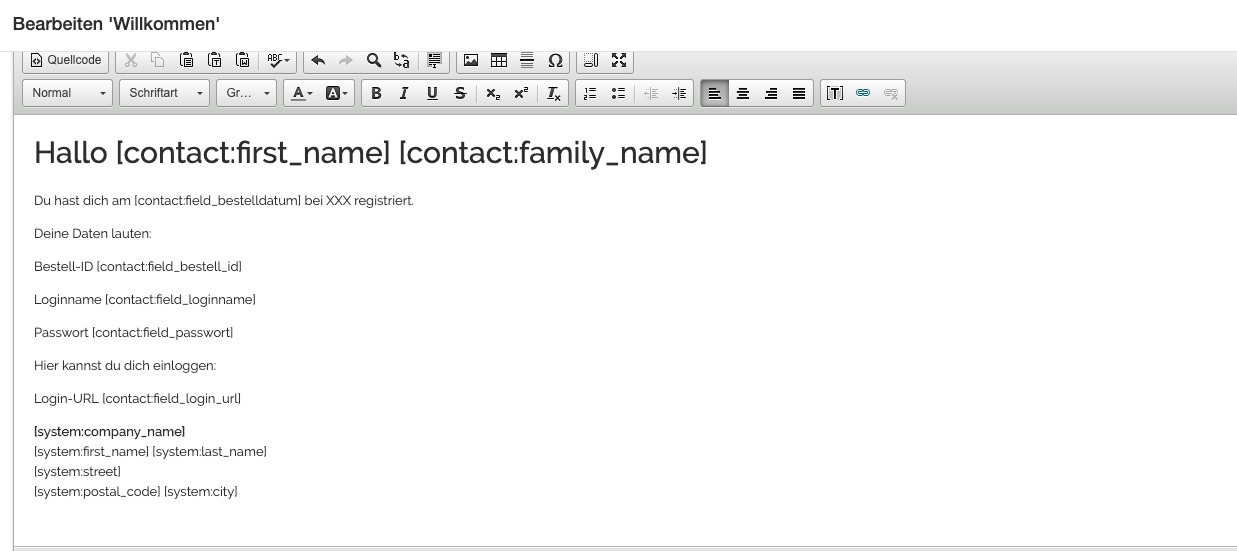 Option 2: Registration via a Digimember form
You can also handle the customer's login via a Digimember form. However, very little information is passed on to Quentn here. If you want to know more about your customers, use option 1.
Click on "Registration form" in Digimember.
Select a product.
Determine what should happen after the form is filled out.
Click on "Generate form code".
Copy the code and enter it on your website.