This article contains the following topics (click on them to jump to the corresponding place):
If you use different templates for your emails or simply wish to prepare an email ahead of time, you can create templates for it.
We have already prepared a few templates for you with dummy text under the menu item Emails -> Templates, to which you will only need to make slight changes. Of course, you can also create your own templates.
Create drafts from existing templates
Step-by-step:
For your desired template, click on

Actions

-> Create new on the right-hand side.
Under

Title, you can name your template so that you can find it again quickly in the future.
Edit the template as you wish. Please note that you must include a legal notice.
Create your own templates
To create your own templates, you must have knowledge of HTML or have someone with the appropriate qualifications to help you.
Step-by-step:
Click on

New Template and then on Source Code in the editor.
Enter your template's code.
Optionally, under Advanced Settings you can:

Specify style information under CSS.
Specify information for the header of the email under Header.
Info: Graphic templates have their cons!
They demand a large amount of data. As a result, the emails are more likely to end up in the spam folder where they shouldn't be.
There are studies that prove that emails with graphic templates are opened fewer times on average as they look like adverts.
A lower open rate results in a worse reputation.
The graphic templates are displayed differently for each recipient because each email provider has its own settings. An email may look different in "Outlook" in comparison to Apple's "Mail"
If you copy existing templates from other programs or from your previous provider, there may still be tracking pixels in the code.
If you use links to images, make sure that the images are in a location that you can control. For example, if you copy a template from your previous provider and the image is located on that provider's server, the image may no longer be available after your cancellation. (Just because an image is displayed does not mean that the image is also stored in the email!).
Editor

The symbols in the editor should be familiar to you from common writing programmes. Only four functions may need a little explanation:
Quellcode:

Click here to switch from WYSIWYG to html.
Picture:

Insert a picture. Please note that the image should not be too large! It is not enough to move the image to the appropriate dimensions in the editor, you must upload the image in small resolution. Since every e-mail client has its own rules, it can otherwise happen that the image is displayed in full size and thus the complete layout of your e-mail is ruined.
Add token [T]:

This function allows you to personalise your emails by inserting placeholders, e.g. for names, salutations or addresses.
Links:

Highlight the text or image to be linked, click on the link icon and enter the URL.
ATTENTION: Never insert links in plain text.
Never use links in plain text, but link words. Pure URLs are interpreted by servers and email clients as a phishing attempt. The e-mails are more likely to end up in the spam folder - this damages your reputation.
Deviating display in preview
Every e-mail client has its own rules regarding the display of e-mails. Thus, it can quickly happen that e-mails are displayed differently to your recipients than they are to you. To avoid an aesthetic disaster, we recommend that you do not send e-mails that are too "well-designed".
If you do not want to do without pictures, please note that they should be reduced in size beforehand and the small file should be used for the e-mail. Otherwise, for the reasons just explained, some recipients may see a huge picture and the whole layout will not fit.
Email settings
Under the settings, you can define whether the unsubscribe text is to be displayed in the Du or Sie variant or in English.
In addition, you can enter up to three CC and BCC recipients from a Basic account. The limit for receiving copy e-mails is 10 e-mails per recipient and 24 hours. The daily limit can be increased on request.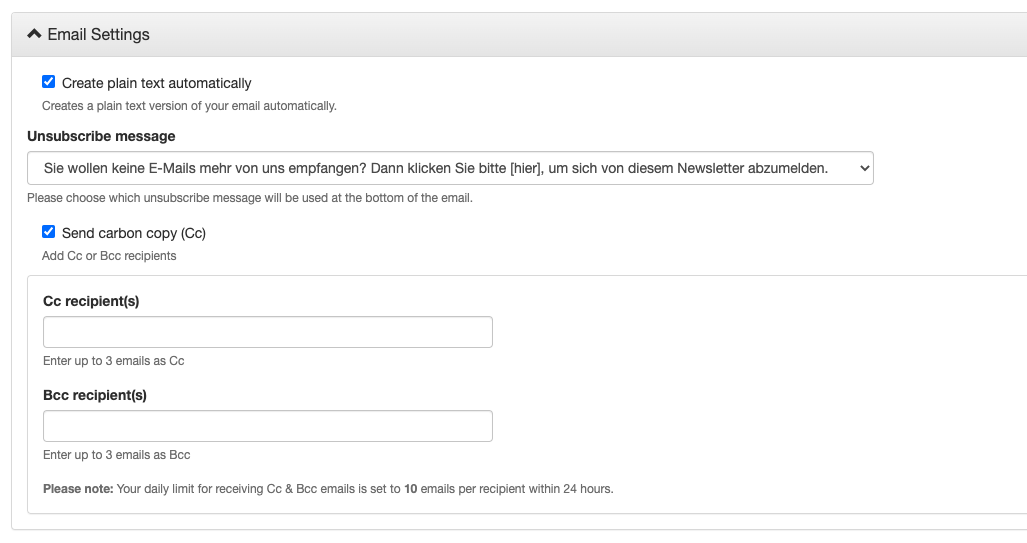 Testing the Emails
To make sure that everything looks the way you want it to, you have the option of sending yourself a test e-mail. Under the editor you will find the item "Test the e-mail". As soon as you click on it, a menu item opens. Please enter an e-mail address here to which the test e-mail should be sent.
Please note: Placeholders are not replaced in test Emails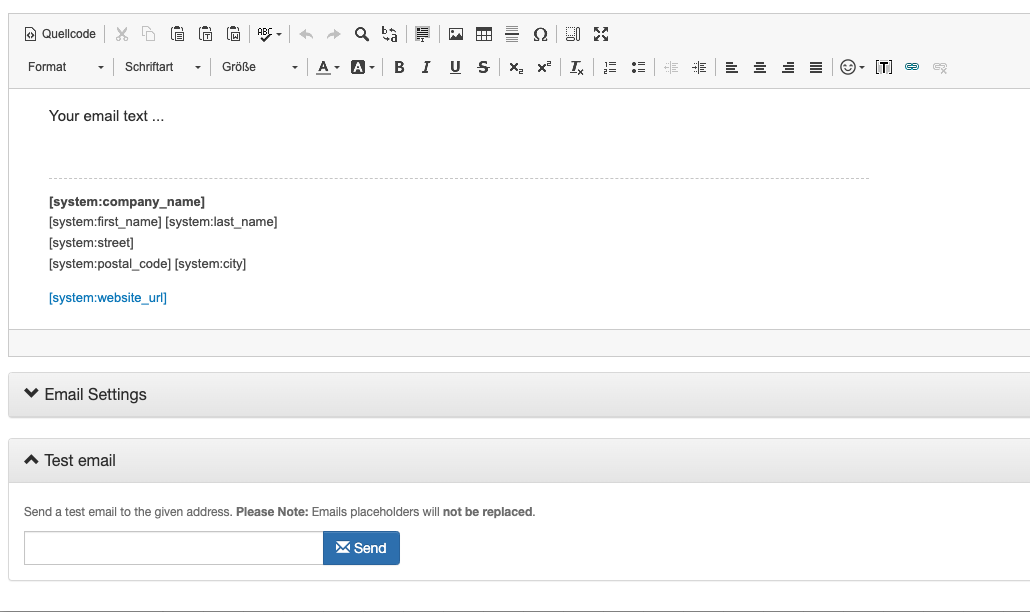 Imprint in the emails
According to § 5 of the German Telemedia Act (TMG), it is mandatory for commercial websites and commercial e-mails to have an e-mail imprint in the e-mail signature - a link to the imprint is not sufficient.
To enable legally compliant e-mail marketing, you cannot send e-mails without an imprint. This is generated as usual via the placeholders, which obtain the information from the data you have stored.
Unsubscribe from the newsletter
Article 7 (3) sentence 4 of the GDPR regulates the unsubscribe options from the newsletter: "The withdrawal of consent must be as simple as the granting of consent. This means that in every newsletter there must be a link with a clear designation, e.g. in the footer, which can be used to unsubscribe from the newsletter. A more complicated unsubscribe option, for example with a compulsory login to the customer account or similar, is not permitted. Quentn has automatically integrated this link in the emails, so you do not need to do anything else here. You cannot edit this link. This is the only way we can guarantee legally compliant email marketing.
You can now choose between You and You as the address in the unsubscribe text. Below each email, you now no longer only have the option to send yourself a test email, but also another field in which you can select the text for the unsubscribe. Currently there is only a choice between the you/you version, in the future there will be more texts.
Creating your own versions is only possible on request and with a Pro account or higher.
Quentn Branding
In the Quentn Lite version, your emails receive branding from Quentn: the Quentn logo and the note "powered by Quentn" are under the unsubscribe link. In the higher versions, this banding is omitted.